Thanks for coming to the official homepage for guitar legend Tom Principato.

Tom has been setting the telecaster on fire all across the globe with some of the finest performers for over 25 years.

Tom has performed on dozens of blues recordings and is still making ground breaking american music enjoyed by fans across the world.

Tom Principato's world class band includes the passionate virtuosity of Steve Wolf on bass and Joe Wells on drums. Tommy Lepson also appears frequently as a guest with the band on organ and vocals.
---
Powerhouse Records Announces the Nov. 3, 2023 release of

"A Guitar For Christmas"

on CD & LP


This album is a gift to my wife Virginie who loves Christmas and Christmas music as much as I do. The idea was to do something different and fresh, with a bluesy twist, instead of just a "traditional" approach to some of the Christmas classics. It was the "Christmas with Chet Atkins" album that inspired me to want to play guitar, and I have always wanted to make an album of Christmas electric guitar instrumentals. Thanks to her encouragement, that wish has finally come true. All of the songs are complete performances without any fixes, punching in, or editing. -- Tom Principato

Track Listing:

1. Winter Wonderland

2. White Christmas

3. Here Comes Santa Claus

4. Silent Night

5. Santa Claus Is Comin' To Town

6. The First Noel

7. Let It Snow! Let it Snow! Let it Snow!

8. Hallelujah


9. Joy To The World/Angels We Have Heard On High

10. Merry Christmas, Baby

11. Silver Bells




"A Guitar For Christmas"

Buy the CD
$20 includes US postage


Buy the LP - Yes, real vinyl!
$35 includes US postage

Please note there is an additional shipping cost for orders placed outside the United States.
Add $7.50 US for your first cd, and $3.50 US for each additional cd. Please visit the
powerhouserecords.com page to add additional shipping to your order. Thank you.

"White Christmas"
Listen to MP3 Sound-byte


Sorry, your browser does not support the <audio> tag used in this demo.

"Winter Wonderland "
Listen to MP3 Sound-byte


Sorry, your browser does not support the <audio> tag used in this demo.
---
POWERHOUSE RECORDS ANNOUNCES A SPECIAL 2022 RELEASE OF THIS NEW TRIBUTE RECORDING

"It's Tele Time"
POW-140

I have never thought of myself in the same category as Roy Buchanan and Danny Gatton--these guys were my heroes, and through them I heard the playing of some of my other heroes like Les Paul, Chet Atkins, Roy Nichols, Charlie Christian and James Burton. And although I have played different models of Fender and Gibson guitars over the years, (Roy and Danny didn't always play a Telecaster either), I have always thought of myself in my own way, as being part of the "Washington D.C. Telecaster tradition". I always brought more than one guitar on a tour or to a concert, and one of them was usually a Telecaster. There would be a part of the show where I would strap on a Telecaster, joke about "it's Tele time!" and "unleashing the chickens", and for a part of the night everything that I learned or absorbed from Roy and Danny would come pouring out. That is reflected in this collection of live recordings... Tom Principato

Hear sound bytes at the
Powerhouse Records
website

Tom Principato
"It's Tele Time"

A tribute to
Roy Buchanan
& Danny Gatton

$17 includes US postage
---
Powerhouse Records continues the Tom Principato 50 Year Anniversary Collection on the 25th anniversary of the Classic album "Really Blue"
Complete with Re-Mastering and a bonus cut (Sweet Little Woman take 3) and expanded 6 panel Eco-wallet packaging. The album which was released in USA in 1997 and in Europe in 1998, features 7 Principato originals including "Every Minute, Every Hour", Stranger's Eyes" and "One for Danny" Tom's tribute to the late Danny Gatton, as well as Principato re-workings of Blues & Roots classics like Joe Turner's "Kansas City Blues", Robert Johnson's "Walkin' Blues" and Chicago Blues Pianist Little Johnny Jones "Sweet Little Woman". The album also features a cameo appearance from Keyboardist Chuck Leavell (Eric Clapton, John Mayer, Rolling Stones, Allman Bros.) A timeless classic re-visited.


$17 includes US postage
Really Blue
2021 25th Anniversary Edition
---
POWERHOUSE RECORDS ANNOUNCES THE 2021 RELEASE OF

Tom Principato
"Down The Road"


Powerhouse Records continues the Tom Principato Anniversary celebration by releasing "Down The Road-The Studio Recordings" a 2-CD compilation set of vocals and guitar instrumentals that is the companion to the "50 Years Live" CD set. Celebrating 50 Years of Roots Music and Guitar Playing with Chuck Leavell, Willie Weeks, Sonny Landreth, Kim Wilson, Brian Auger, Jim Brock, Wayne Jackson of The Memphis Horns, Steve Wolf, Tommy Lepson, Robbie Magruder, Joe Wells, Kevin McKendree, John Perry, Conrad Drennon, Clark Matthews, Josh Howell, Joe Maher, Jeff Sarli, Wes Johnson, Peter Bonta, Steve Riggs, Chris Watling and many others...


Tom Principato
"Down The Road"
(POW-138)

Special Pricing
for this two CD set:
$19 includes US postage
---
POWERHOUSE RECORDS ANNOUNCES THE 2021 RELEASE OF

Tom Principato
"50 Years Live"


This 2 CD collection of all previously unreleased live recordings from around the World spans Tom's career and celebrates his 50 years of performing. There are 20 tracks in all highlighting T.P. Band members past & present including Joe Wells, Steve Wolf, Josh Howell, Tommy Lepson, John Perry, Robbie Magruder, Pete Ragusa, El Torro Gambel, as well as Tom jamming live with Sonny Landreth, Lonnie Mack, Buddy Emmons, Masters Of The Telecaster, and a rare recording of James Cotton sitting in with the Band Powerhouse in 1976.


Tom Principato
"50 Years Live"
(POW-137)

Special Pricing
for this two CD set:
$19 includes US postage
---
MONTREUX SWITZERLAND JAZZFEST A HUGE SUCCESS!!!

Click below to watch a photo montage and hear one of the tunes
from our Montreux performance.
Tom and the Band (Joe Wells drums, Josh Howell congas & percussion, Tommy Lepson organ & vocals and Steve Wolf bass) enjoying the audience reaction at the Montreux Jazz Festival, "Music In The Park" stage. They played for an enthusiastic crowd of about 2,500!
---
Praise for "A Part of Me"...
"A Part of Me" is well worth the wait, and not just because Principato's songwriting facilitates his exceptional fretwork..."
---
Free Radio/DJ download!
"In the Middle of the Night" from Tom's Raising the Roof CD is available to listen to and for free download now!
---
High Resolution Photos are now available download!
---
TPB just won the "Gary Allen's Best Song in the World" contest for "Don't Wanna Do It"! This excellent song features Sonny Landreth & Chuck Leavell. Here's what Gary Allen (The Charlie Daniels Band/JJ Cale/Stonewall Jackson) had to say:
"I couldn't agree more that if Eric Clapton packed it in and turned over the pick to a successor, that could easily be Tom Principato. I love the clever, bluesy cover of JJ Cale's "Lies". I wouldn't be surprised if next month I was writing Tom up as my Sonicbids contest winner. I told him the competition was as stiff as Al Gore but it didn't scare him any. The performances are dynamic and bombastic and Tom's voice has that fullness and body that his friend Stevie Ray Vaughan and Clapton possess. If I had the cash to buy one new blues artist CD this year, I would proudly hand it over for The Tom Prinicipato Band."
---
Tom endorses Curt Mangan guitar strings!

After over 10 years Tom Principato continues to use and endorse Curt Mangan Strings. Find out more about these high quality American made strings here: curtmangan.com

---
Thank you WAMA!

Thanks to WAMA for honoring the Tom Principato Band and their "Raising the Roof" CD with the Wammie Award for best Blues Recording.
---

Vintage Guitar Magazine interviews Tom in one their feature articles!
Tom is featured in Vintage Guitar Magazine. Lots of great pictures and in depth information in this excellent article. Here's how it starts:
The Tom Principato Band recently released Raising the Roof and Principato sat with Vintage Guitar to discuss his history and the instruments he has used while creating it. He has resided in Boston, Pittsburgh,and Austin and is now settled back in D.C., where he came of age listening to local legends.
"I really got interested in guitar from listening to my parents records," he recalled. "Chet Atkins, Les Paul, Charlie Christian. My parents were in their 30s when I was born and there was a lot of swing music in the house when I was growing up. I started playing the guitar when I was 11 and struggled with it on into high school..."
Click here to see the whole Vintage Guitar Magazine article.
---
This pic is from the Jeff Sarli Tribute Concert at Chick Halls Surf Club on Tues Oct. 10.

Tom is jamming with Kevin McKendree (of The Delbert McClinton Band) on piano, and Big Joe Maher on drums.


Photo by Linda Parker
---
Notable Quotes

"Music reminds us of the best that we are about"
--Wynton Marsalis on Emeril Live 8/21/06

"While I acknowledge that my primary function on Earth is to be a musician, I also see that music is nothing more than the essential component of humanity-it is all the same material. My feeling is that the more I can learn about music, the more I learn about other things. So far, it has worked for me.
--Pat Metheny
---
The Birchmere was again sold out and rockin' with over 500 fans!

Thanks to everyone who came out to the show to party with Tom, Bill Kirchen, and Tommy Lepson.
---
Read Tom's interview with BluesWax's Ezine called Sittin' In With Tom Principato -
Guitar Thrills, Blues, and A World of Music from Tom Principato.
---
Check out Tom's all new 2023 Chord Book. This is a comprehensive encyclopedia of over 250 chords in 55 categories. Read more here: 2023 Chord Book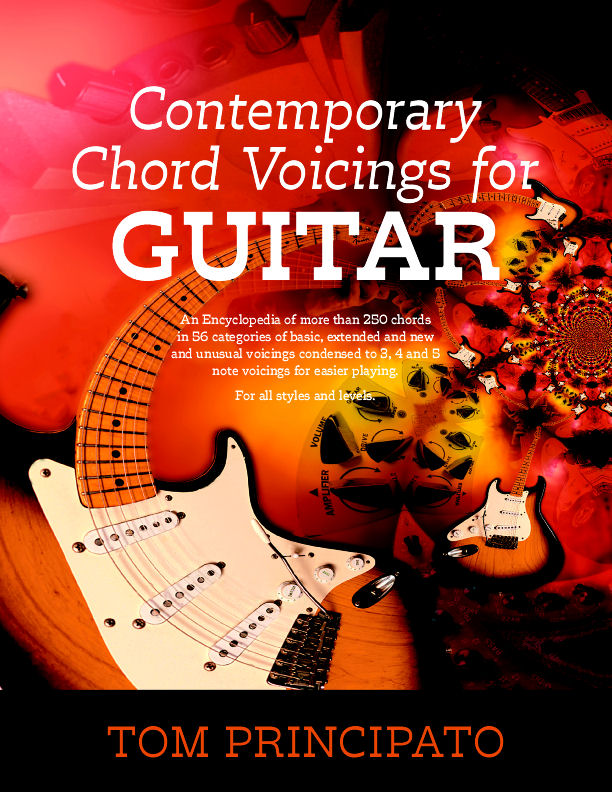 ---


A NEW
BOOK RELEASE!
They Tell Me
I Had A Good Time!
Read about this title HERE.
---


The Long Way Home

The Acclaimed Instrumental
CD Collaboration From
Tom Principato & Steve Wolf
Read about this title and
listen to soundbytes at the Powerhouse Records Website.
---


Robert Johnson
Told Me So
Read about this title and
listen to soundbytes at the Powerhouse Records Website.
---
Tom Principato
uses and endorses…
• Fender guitars and amps
• Seymour Duncan pickups
• Curt Mangan Strings
• Roger Mayer effects
• Fulltone effects
• SoundSeat music seats
---
Check out Tom's Chord Book with 4,000 chord voicings. Guitarists will find it a valuable reference whenever something special or different is needed...
---